Following the latest government announcement, we are pleased to announce that the center officially reopened on Monday, March 8! 
Bouldering and routes are accessible, paused memberships have been restarted as of March 8 and our hours of operation have been changed. The center closes at 9:00 p.m. every day in order to respect the 9:30 p.m. curfew.
Please note that we are only resuming the top rope and lead courses for the moment.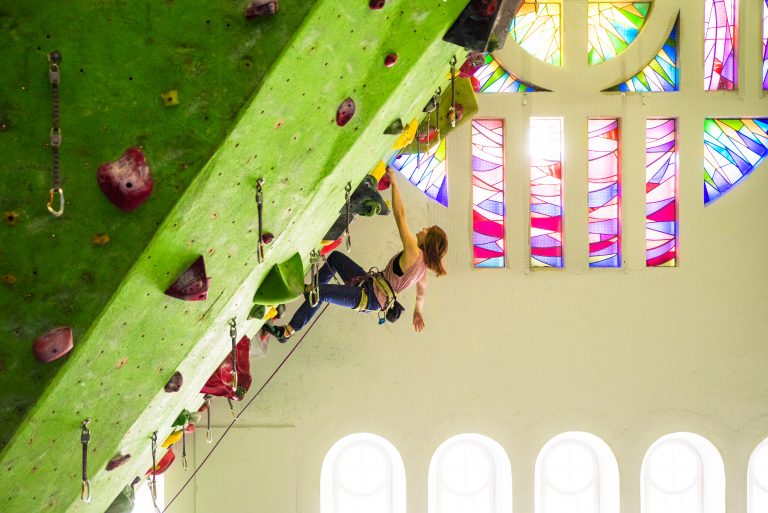 Given the uncertain nature of the current situation, procedures may be modified without prior notice. All of our efforts are aimed at ensuring the health and safety of our clients and staff while ensuring an enjoyable experience.
Sanitary measures
Wash your hands
Wash your hands on arrival and between each climb, as much as possible. We have installed an extra sink in the entrance. The bathrooms will remain open to access the sinks.
Face and rope
Many lead climbers have the habit of holding the rope in their mouth during parts of the climb. Because of COVID-19 and for many other hygienic reasons, we ask to please break this habit! Restrain from touching your face as much as possible.
Liquid chalk
Powdered magnesia is no longer accepted. You may use liquid magnesia (available at the front desk).
Update : Balled chalk is now allowed for top rope climbing! We continue to encourage you to use liquid chalk as much as possible at the start. And for the boulders, we continue to use liquid chalk!
Masks
Wearing a mask at all time is now mandatory for both adults and children. Prioritize medical masks over other types.
Clothing and shoes
We no longer allow bare feet or bare chest in the gym. You must bring indoor shoes to wear in between your climbs.
Services and prevention
Reservation procedure
*REMEMBER TO RESPECT THE 2 METER DISTANCE
Before your arrival
If you have any symptoms of a cold or flu, please stay home. 

You must make your reservation online before coming to the center.

Use only one bag for your climbing gear and bring indoor shoes.

Bring your mask and your liquid chalk or purchase some at the front desk.

Already be wearing your climbing apparel.
Upon arrival and check-in
Once inside, wash your hands at the sink in the lobby.

You must already be changed and ready to climb. We are trying to limit the amount of traffic in and out of the washrooms/change rooms.

The interaction with the employees upon your arrival may be limited to the check-in only. All questions, purchase or rentals will take place after all climbers have been checked-in.
During your session
Wash your hands as often as possible.

Only use liquid chalk. 

Limit traffic and use of washrooms and change rooms.

Respect the direction of flow in the stairwells and throughout the centre.

Respect the 2 meter social distancing rule.

Avoid touching your face as much as possible.
On your way out
Leave the premises 5 minutes before the end of your time slot to limit contact with the next group.
Patience and kindness towards other users and staff. Ça va bien grimper!