Due to the health and safety announcement made by the provincial government, we are required to close our centre starting Saturday January 9, 2021. All memberships will be placed on hold, without penalty, until we re-open.
Our team would like to thank you for your understanding and support. We will re-open our centre as soon as safety measures permit.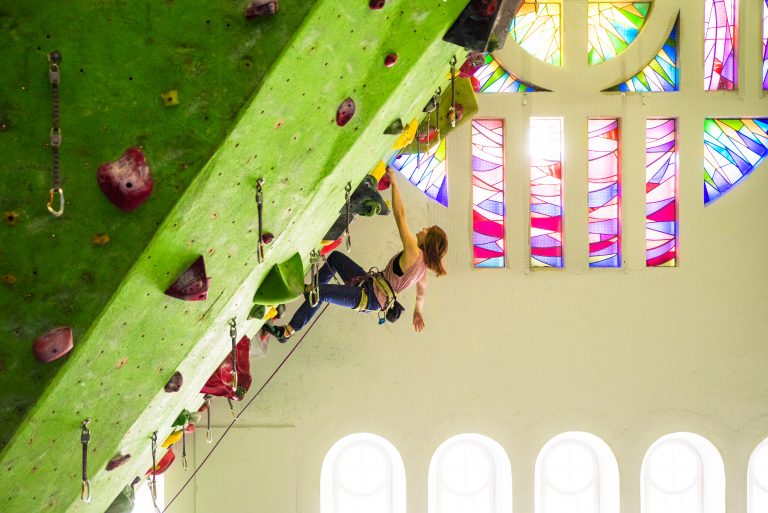 After three (long) months, we are happy to announce the reopening of our centre on Monday June 22, 2020! With the reopening of our centre comes new rules to meet the requirements of our public health and safety. We invite you to familiarize yourself with these changes.
Given the uncertain nature of the current situation, these procedures can change without notice. All of our efforts will assure the health and and safety of our staff and clients and assure an enjoyable experience for everyone.
Sanitary measures
Wash your hands
Upon arrival. We have installed a sink at the entrance.
Between each climb, and as much as possible. The washrooms will remain open for access to additional sinks.
Face and rope
Many lead climbers have the habit of holding the rope in their mouth during parts of the climb. Because of COVID and for many other hygienic reasons, we ask to please break this habit!
Restrain from touching your face as much as possible.
Liquid chalk
We chose to impose liquid chalk. According to the latest studies, the hydroalcoholic solution varying between 70 to 99.9% of manufacturers allows disinfection and helps maintain hygiene.
Masks
Wearing a mask at all time is now mandatory.
Clothing and shoes
We no longer allow bare feet or bare chest in the gym. You must bring indoor shoes to wear in between your climbs.
Services and prevention
Symptoms
First and foremost, if you have symptoms or have been in contact with someone who has had symptoms related to COVID-19, please stay home and follow the recommended 14 day isolation period.
If you have tested positive or have symptoms of COVID-19 after visiting, we ask that you please call or email us so we can retrace the clients having visited our centre recently.
Social distancing
The 2 meter rule still applies inside the gym. This means, upon your arrival, during your climbing session and moving around inside, please respect this 2 meter rule.
Even if you live at the same address, we please ask for you to not make exceptions to this tule unless you need to belay your child of 14 years old or younger.
Payment by card
We are no longer accepting cash transactions. Only credit and debit card payments will be accepted. Even better, you can pay for your entry online through our online shop. In the near future, all transactions will be done online.
Closure of activities
We have revised all of our activities and services offered.
Water fountain (bring your bottle)
Less chairs and tables available
Reservation procedure
Starting Monday July 6, 2020, it will no longer be required to make a reservation prior to arrival. Unless we reach our 50 person limit, we will return to our original "first come first served" policy.
Take note that given the nature of the situation, we may reinstate our online reservations this fall/winter.
The following text no longer applies after Sunday July 5, 2020. Please check back frequently in case of changes.
Schedule
The reservation schedule is set to 2 hour climbing sessions. In this 2 hour time slot, you must check in, climb and leave time to exit the building.
You must respect the time slot you have reserved and arrive on time. We please ask that you end your climbing session 15 minutes before the end of your booked time slot. 
You can arrive any time after the start of your time slot but you must leave at the end of the hour. 
Reserve
All climbing sessions must be reserved online prior to arrival. All time slots begin on the hour (2pm, 3pm, etc.)
The number of available spots is listed in the online item. You can then add your time slot to your cart depending on the available time slots.
If you have an active membership in effect of March 15th or prepaid entries you will receive a QR code that will give you the steps to follow in order to confirm your reservation by email that will allow you to add a 100% discount to the $16 reservation fee.
All memberships have been extended 99 days.
This promo code will be valid for the duration of your membership. This promo code is unique to each member.
If you have purchased a new membership, you will also receive a personalized promo code to use online.
Cancelling a session
We please ask you to be present for your reserved time slot. For the moment, we do not have any easy cancellation methods. For urgent matters, you can email us at info@vertige-escalade.com
Vertige reserves the right to refuse access to a member (prepaid membership) for a brief period if they abuse these rules (no-shows, sharing promo codes, etc.)
Access codes for prepaid members
You may not have received an email if:

There was a typo in your email address

There was no email associated with your Vertige account
The email is in your spam/junk mail
In any of these cases, please write to info@vertige-escalade.com and we will update your email.
Changing my time slot
For now, there is no way to change your time slot. You can only make a new reservation.
Drop-ins
You must absolutely make a reservation online before coming into Vertige. We currently do not allow drop-ins to fill empty spaces in time slots. Check on the website and make a last minute reservation.
*Certain rules have been temporarily modified.
Before
If you have any symptoms of a cold or flu, please stay home. 

Making an online reservation is required before entering the centre.

*

Use only one bag for your climbing gear and bring indoor shoes.

You must wear a mask

Bring your liquid chalk or purchase some at the front desk.

Already be wearing your climbing apparel.
Upon arrival and check-in
Please wait outside in order to respect social distancing. Climbers will not be admitted before their reserved time slot.

*

Inside the entrance we have installed a sink for you to wash your hands upon arrival.

You must scan your bar code and receipt with your online reservation AND your member card for identification

*

You must already be changed and ready to climb. We are trying to limit the amount of traffic in and out of the washrooms/change rooms.

The interaction with the employees upon your arrival may be limited to the check-in only. All questions, purchase or rentals will take place after all climbers have been checked-in.
Powder chalk is no longer permitted. You can use liquid chalk (available at the front desk).
Climbing and end of session
Wash your hands as often as possible.

Only use liquid chalk. 

Limit traffic and use of washrooms and change rooms.

Respect the direction of flow in the stairwells and throughout the centre.

Respect the 2m social distancing rule.

Avoid touching your face as much as possible.

Leave 5-10 minutes at the end of your time slot to pack up.